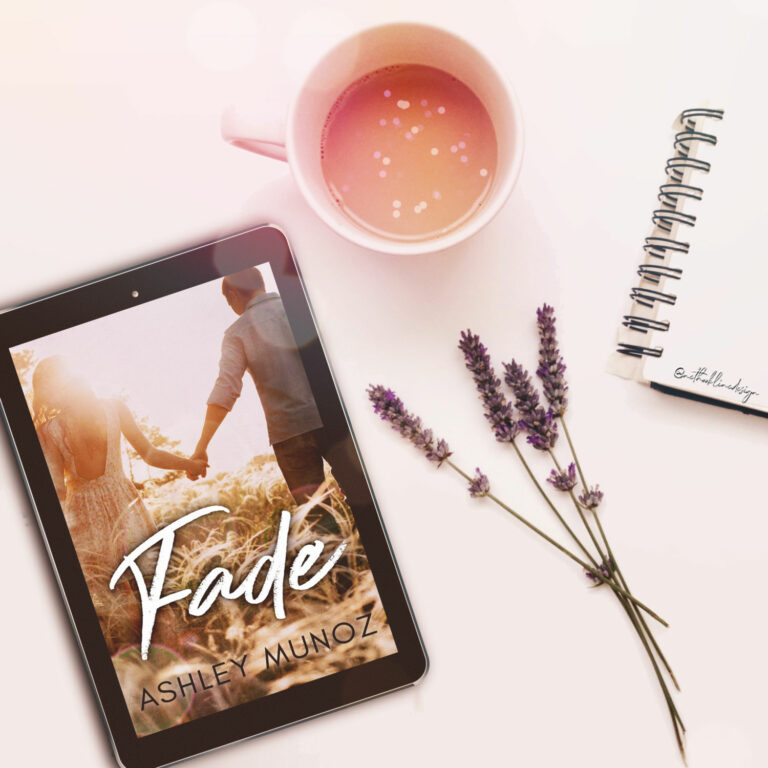 FADE
AUTHOR: ASHLEY MUNOZ
RELEASE DATE: April 5, 2019
GENRE: 2nd CHANCE, CONTEMPORARY ROMANCE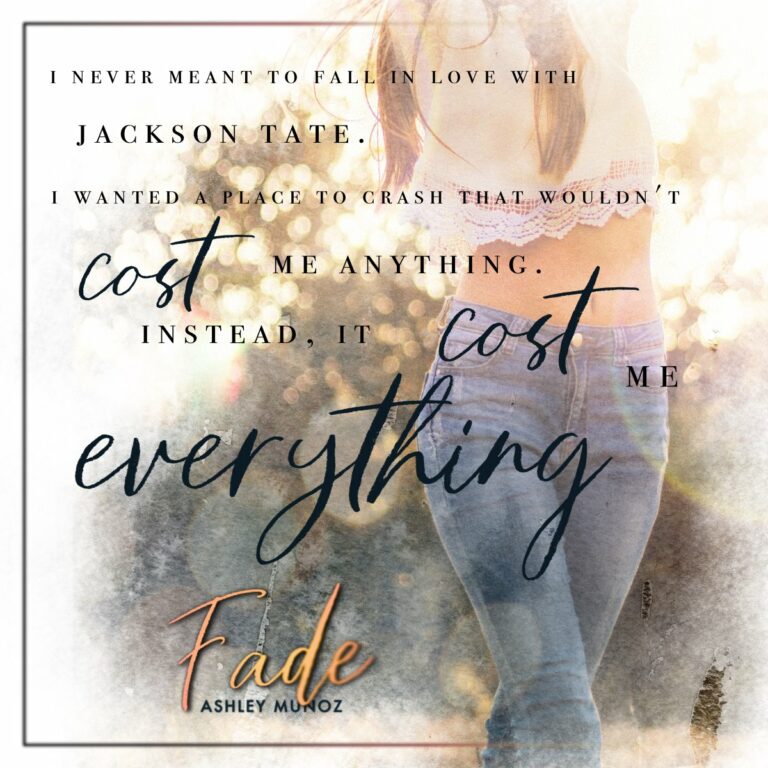 BLURB:
Laney:
Jackson Tate and I are over. Done. Finished.
Then again, how do you end something that never really started?
Now, three months later we're being thrown back together for the sake of an investigation and forced to coexist.
I thought falling in love with someone who didn't want to be loved was hard but going into witness protection with the man who ignorantly took my heart? Yeah, that was going to be impossible.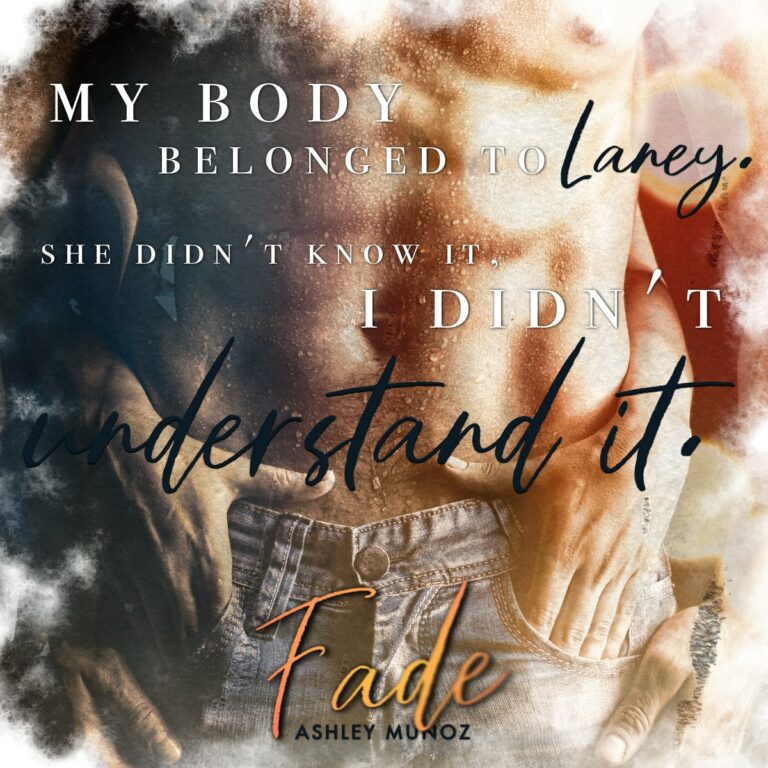 Jackson:
Time and distance were what I needed to forget Laney Thompson. A Jack and Jill bathroom and the bedroom next door was what I got instead. Witness protection on her family's farm? I was skeptical too, especially with our icy reunion. But the longer I was around her the more I realized how much I needed her.
With her, it was easy to forget.
Forget about my life and who I was, and why we needed things to fade between us in the first place. All I needed was one tragic reminder.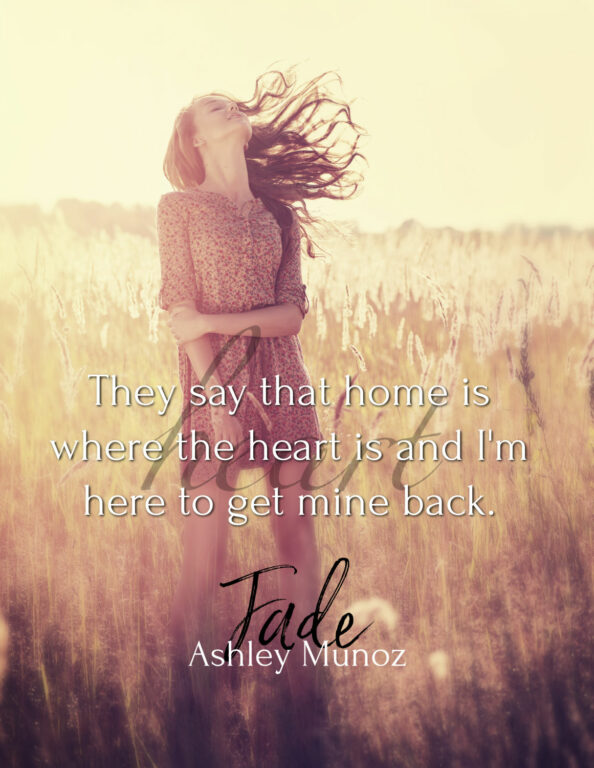 EXCERPT:
"So, how have you been these last few months?" Jackson asked with a slight pitch in his voice.
I tried not to let out a big fat sigh. I really didn't want to talk about how miserable I had been or how many times I had cried myself to sleep. So instead. I said, "Good but busy. How about you?"
He did let out a big sigh and readjusted his hands on the steering wheel. "Rough… They've been rough." He trailed off with a strong tick in his jaw.
So many parts of my heart wanted to hear why his last few months were rough and ask if he missed me. But asking why his last few months had been rough would eventually lead us back to the topic of the breakup, and I wasn't ready to broach that yet.
So, I changed the subject. "So, are you ready to be on a farm? Want any pointers?"
Jackson let out a small laugh and dug into his can of almonds which was his version of road trip food. Mine, however, was a bag of Funyuns, Cheez-its, Red Vines, and trail mix.
"I don't think I will ever be ready for the farm, but I would love some pointers." Jackson tilted his head and looked over at me, the bill of his hat tipped back just a fraction, making him look like he really did belong on a farm.
I sifted through the pile of trail mix for the M&Ms and started in.
"So, first thing you need to know is no one will respect you right off the bat. You'll need to be willing to put in the work and earn it,"
I dumped the rest of the trail mix back into the bag. Jackson noticed and chided, "Stop it. You know I hate it when you only eat the M&Ms."
I shrugged and started hunting for more.
"You'll probably be asked to clean up horse poop and collect eggs, maybe even move a few hay bales."
Jackson carefully peeked at me before watching the road again. I was sifting through another pile of trail mix when he ripped the bag out of my hands.
"No! Jackson don't!" I yelled, trying to reclaim the bag.
He had it shoved in between his hip and his door, out of my reach, and even if I could reach it, I'd have to get really close to him to do it.
"Give it back," I held out my hands expectantly.
He was still watching the road as a smile crested his face. "Not until you promise to eat some almonds." He was always trying to get me to eat healthier, which was discourteous because it wasn't like I was pushing my artificial flavors or processed sugar on him.
"No. It's mine. Give it back," I demanded again. Jackson peered at me again and gave me a grin that said he was going to like what he was about to say way more than I was.
"Come and get it."
I knew it.
I fucking knew he was going to turn this into some game. I let out a sigh and crossed my arms.
"Forget it. I'm not in the habit of feeling up man-whores." It was a low blow but so was finding out he took someone else to Italy.
BUY LINKS:
Amazon:
https://www.amazon.com/Fade-Ashley-Munoz-ebook/dp/B07NMP39YZ
**Available in KU.
TEASERS:
ABOUT THE AUTHOR:
Born in Nebraska. Raised everywhere under the sun but grew roots in Central Oregon. Married to the shy guy from high school who grew up to be hot as hell. Four kids, three of which are little women and one little princeling. My life is full, fun, and amusing. I became a writer to fund my expensive reading habit.
AUTHOR LINKS:
Website:
http://www.ashleymunozbooks.com/
Facebook:
https://www.facebook.com/ashleymunozauthorpage/
Twitter:
https://twitter.com/AshleyMZAuthor
Instagram:
https://www.instagram.com/ashleymunoz_author/
Goodreads:
https://www.goodreads.com/author/show/18233596.Ashley_Munoz
HOSTED BY:
@LipServicesPR
Lip Services PR