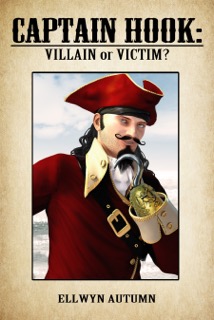 Synopsis:
Prepare for a journey full of magic and mystery aboard the Nevermore!
David J. Locke is a would-be journalist with lofty aspirations. Following an incredible lead, he sails the high seas in search of Captain James T. Hook, resolved to uncover the pirate's version of what happened with Peter Pan.
Adventure abounds during Locke's travels; unexpected revelations lurk around every dark corner. During his travels, an old seaman befriends Locke and guides the inexperienced reporter as he learns truths about Hook he never expected.
Book Trailer:
Captain Hook: Villain or Victim?
Book Reviews:
Reader Reviews:
A fantastic twist on Peter Pan and Captain Hook. I recommend Ellwyn Autumn's "Captain Hook: Villain or Victim?" to any young person and to the older people who never wanted to grow up. -Chasity Gaines
In a book this short, it's amazing the depth the author reaches in her characters, and settings. From the aroma of the tea to the imagery of the final scene with Captain Hook I was mesmerized. -Gina R. Mitchell
The book keeps you interested throughout, and the fiction of the re-telling is quite smart and uniquely thought through. I am very happy that I read this book! I would recommend it to all of you that love retellings and love fairy tales. -Ivana, Diary of a Difference
Super Cute Alternative Point Of View
Captain Hook: Villain or Victim is a fun adventure with a narrator, David J. Locke, as quirky and endearing as any of the characters in the original Peter Pan. This book is very well-written and provides the reader with adventure and a mystery to follow. It's appropriate for middle grade on up.

I would recommend it to anyone who enjoys Peter Pan and likes a fun twist on an old classic. I really enjoyed this fast read. -D.E.M.