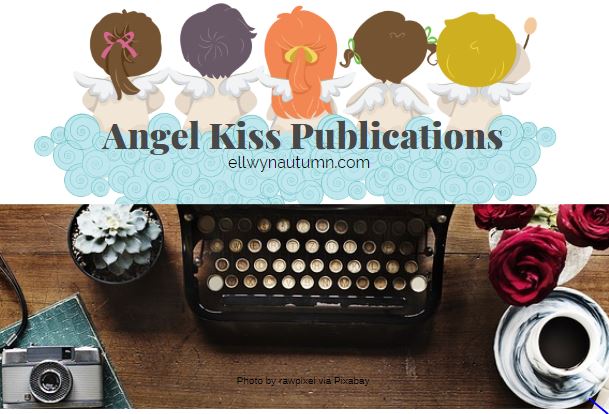 Anthony Manna is a retired professor of literacy development- reading, writing, drama and other language arts. He is also an author of picture books and a collection of folk tales and fairy tales.
He loves books of all kinds, whether paper and electronic. He can't get enough. He also loves writing and helping other writers.
Now that I've introduced you to Anthony, let's get to know him a little better.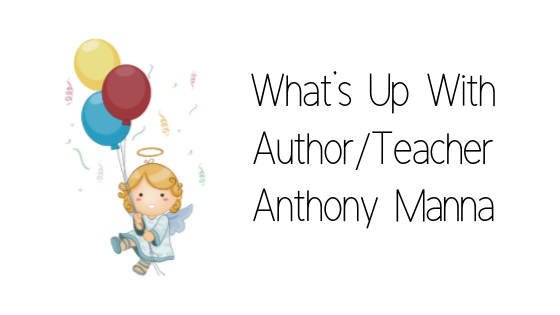 Hello, Anthony, welcome to Angel Kiss Publications. Thank you for agreeing to do this interview.
Thank you for having me.
Why did you become a teacher?
I was drawn to teaching as a profession because of instructors I had the pleasure of working with when I was in a Catholic seminary.
From them I learned just how valuable a teacher can be in helping young people grow mentally and spiritually while learning how to make sense of human experience—mine and others.
In the seminary and later in a monastery, I gained my first awareness of the value of embracing human diversity, civil rights, and social justice.
What grade did you teach?
Teaching hooked me when I was an aide in a Head Start classroom many years ago.
Following my seminary experience, I became an English literature major, then onto a master's degree in English Education a.k.a. the language arts. After a three-year teaching gig in Istanbul, Turkey, I worked on a Ph.D., again with a focus on English language arts teaching and learning and drama as a learning medium. 
Along the way, I taught language arts in a preschool, middle school, and high school. And I loved the interactions, the connections with students, and all the learning I was doing about reaching our to students to motivate them to become confident, skilled readers and writers.
When I moved into the university, in addition to teaching children's, tween, and teen literature, and courses in writing—always with future and veteran teachers and their students as my primary audiences—I developed research projects that brought me into classrooms where I collaborated with teachers to explore activities that encouraged kids and teens to love reading and writing as they gained their proficiency.
Eventually, I totally lucked out and was invited to teach teachers in Greece and Albania. Those were life-changing experiences that awakened me to cultural experiences outside my comfort zone.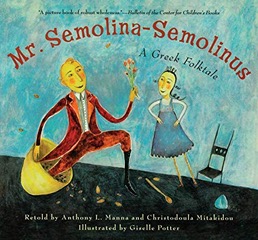 How has your teaching experience influenced your writing?
As a writer, I draw on many life experiences. As I continued teaching and researching at the university, I got deeper and deeper into the styles and manners of many literary texts, particularly texts that explored cultural diversity. Literature of many genres consumed me.
In the back of my mind I wondered if I would ever try my hand—and mind—at crafting a story. You see, as a university educator I was obliged to either publish or perish, so I kept my job and did a lot of academic publishing.
But writing stories or poems or plays? That seemed the kind of writing reserved for folks with special talent and skills. Ones, I imagined, I didn't possess.
What inspired you to become a writer?
I ventured into writing stories because of my experience in a kindergarten in Greece. I had gone to Greece on a grant from my university. The grant directed me to teach and conduct research in the education department at Aristotle University in Thessaloniki.
What better way to learn about Greek culture than in a school. Into a kindergarten I went to collaborate with two very fine Greek teachers whose English language skills allowed them to help me navigate life in their classroom.
When story time rolled around each day, these kids stepped into the worlds of myths I was very familiar with. Worlds inhabited by Zeus, Demester, Atlas, Helios, Athena, Artemis, Icarus and other personages in that population of intriguing characters.
But then I found myself in a fascinating story world filled with giants, rival step-parents, charming princes and princesses, struggling brothers, nasty goblins, mysterious asking spirits, and the like. These stories were Greek folk and fairy tales.
With a Greek colleague, I researched these stories, translated them into English, and reimagined them for English speakers. That launched the Greek Folklore Project and my debut as a story writer.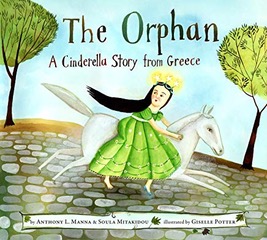 Which genres do you write?
So far, my books are reimagined folk and fairy tales. Notice, please, how I avoid the more common term when it comes to working with these tales, the word, "retelling."
I soon learned that the process of writing involved so much more than a mere "retelling." It involves shaping a narrative just the way any story writer does it.
The labor of developing authentic characters in space and time conflicting, struggling, losing, winning—whatever characters do to live a life and survive—or not.
With my most recent book, Loukas and the Game of Chance, I reimagined a Greek tale of loss, struggle, and the search for redemption into a middle grade/middle school fantasy, which draws on some characteristics of the source tale, but moves into story territory far beyond the source's economic narrative.
I invented characters and situations that turn the tale into a full-bodied fantasy driven by suspense.
What do you find most challenging writing for your genre?
This is a question kids like to ask when I visit them in their schools. I tell them my challenge is to sustain trust in myself as a writer once I'm engaged.
I struggle to step away from those pesky inner voices which tell me the writing is bad or too simple or utterly uninteresting. Whenever these voices talk to me, I tell them, "Don't disturb me. You're not my business anymore. Leave me alone."
Then I move on, staying with the process and always reminding myself that writing is rewriting, that drafts are rough, and that if I keep working at it, something satisfying may emerge. Writing is a discipline. I need to discipline myself to keep writing. And it can be a labor of love.
What are you working on now?
These days, I'm working with a book marketer as I move toward the release of Loukas and the Game of Chance on October 1, 2019.
Folks—kids included—are surprised when they hear about the social media outreach authors must engage in these days if they want to make their books and themselves known.
With a book marketer, I'm learning to be active on Facebook, Twitter, Instagram, Goodreads, and other social media platforms. I'm learning about the best content I can come up with to draw attention to myself and my new book.
You'll hear a lot of writers—myself included—complain about the time social media activity takes, and that means the writing must be set aside temporarily. Complain and then accept outreach as a reality of a writer's life these days.
In the little time that remains to write, I am working on two stories. Anthousa Xanthousa Chrisomalousa (a young female character's name) is a variation of Rapunzel.
The Imposter is a tale of deception, intrigue, and the struggle the main character engages in as he tries to salvage his true identity from his enemy who stole it.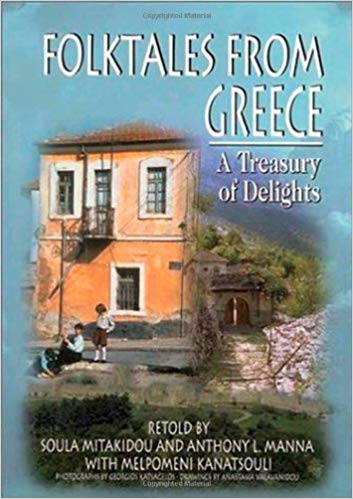 How many books have you written?
As an academic writer, I published several books—and many articles— about multicultural literature, teaching strategies, educational drama, and approaches to teaching writing.
As a story writer, I have co-authored Mr. Semolina-Semolinus: A Greek Folktale (Anne Schwartz/Atheneum), The Orphan: A Cinderella Story from Greece (Schwarts & Wade/Random House), and Folktales from Greece: A Treasury of Delights (CLIO/Libraries Unlimited).
My solo book is Loukas and the Game of Chance which will be released October 1, 2019.
Have you won any awards?
My book awards:
Mr. Semolina-Semolinus: A Greek Folktale (Anne Schwartz/Atheneum, 1997), co-authored with Soula Mitakidou, illustrated by Giselle Potter~
American Library Association Notable Children's Book
Selected among one hundred best books of the year by the New York Public Library
Recipient of the 1997 Marion Vannett Ridgway Award for first-time authors and illustrators. 
The Orphan: A Cinderella Story from Greece (Schwartz & Wade/Random House, 2011), co-authored with Soula Mitakidou, illustrated by Giselle Potter~ is a Bank Street College of Education Best Book of 2012.
Loukas and the Game of Chance, illustrated by Donald Babisch—2019 Book Excellence Award Finalist.
What has been your most rewarding experience since publishing your work?
School visits are exciting and rewarding. I enjoy introducing kids and teens to my drafts while I'm in the process of composing, revising, and revising again. I do this with PowerPoint slides.
During these presentations, I like to dramatize my characters, using the voices I hear them speaking as I write.
Each presentation ends with a writing activity that I often assign to the groups I work with, giving them a few days to complete the assignment with their teacher's assistance, of course.
When I return to the school, it's time for the students to share their writing in small groups and also as solo presentations.
One successful writing prompt I've been using lately asks them to write a story based on this idea: …And they lived happily ever after…or did they?…What might happen when "happily ever after" turns into "…and they lived happily ever after until… …something really bad or strange happened?"
What advice would you give to authors just starting out?
Read, read, read books in the types of literature you like—mystery, suspense, realism, poetry, short stories, humorous stories, plays, fantasy, science fiction—whatever interests you.
Then, reach out and read beyond your comfort zone. Talk to teachers, parents, librarians and friends and ask them for recommendations.
Learn the craft of writing from good teachers, workshop presenters in local libraries, and in summer writing camps.
There are also many good books that help writers to develop their craft. Books like Leap Write In: Adventures in Creative Writing (Roost Books, 2013) and Rip the Page: Adventures in Creative Writing (Roost 2010)—both wonderfully interactive guides by Karen Benke.
What message are you sharing in your books?
Sooner or later, we all make mistakes, fail, and experience tough times, but we all can find the courage to face our struggles, persevere, survive, and turn our life around.
When you're not writing where can we find you?
In the summer, in my garden. I also spend a lot of time at the local gym in spinning, pilates, aerobic classes.
And I love all kinds of theatrical presentations—local and in New York, one of favorite cities. Theater is about life. Theater teaches me a lot about how to live and also how not to live.
I'm glad that I once pursued a career in acting—it was like living in stories that I presented to audiences with other characters in the stories.
What are your favorite books?
Oh, my favorites could fill a notebook or two.
Right now my favorites are Shout by Laurie Halse Anderson, Voices in the Air: Poems for Listeners by Naomi Shihab Nye, Crossover by Kwame Alexander, The Day the Universe Exploded My Head: Poems to Take You into Space and Back Again by Allan Wolf, and Martin Rising: Requiem for a King by Andrea Davis Pinkney.
Classics I love to read and reread are the Harry Potter books, A Wrinkle in Time by Madeleine Engle, Bridge to Terabithia by Katherine Paterson, Holes by Louis Sachar, The Little Prince by Antoine de Saint-Exupery, and all the tales by the Brothers Grimm and Hans Christian Andersen.
On your website you have educational materials for teachers. Can you tell us a little about them?
My website @ www.anthonymannabooks.com is filled with supportive resources for parents, teachers, kids, tweens, and teens.
They'll find word games and activities that encourage active participation in reading and writing.
They'll also find videos; lists of recommended books, including award-winning graphic novels for kids, tweens, and teen; links to websites for readers and writers; lots of printable and downloadable teaching and learning aids; and kids' written responses to my school visits.
I also like to recommend Reading With Your Kids (www.readingwithyourskids.com). It's a lively interactive website that features award-winning podcast interviews with authors and illustrators—mine will be available mid-September—book-buying programs, truly interesting blogs about reading and reading with kids, and fun activities.
What social media platforms do you frequent?
I am active on the following platforms:
Where can we find your books?
While Mr. Semolina-Semolinus: A Greek Folktale (Anne Schwartz/Atheneum) and The Orphan: A Cinderella Story from Greece (Schwarts & Wade/Random House) are out of print, copies are available on amazon.com and in libraries.
Folktales from Greece: A Treasury of Delights (CLIO/Libraries Unlimited)—a collection of twenty stories and information about Greece's history, storytelling, and foolklore— is available wherever books are sold and from the publisher at www.abc-clio.com.
Thank you, Anthony, for spending time with us and sharing your story. We wish you continued success and lots of luck.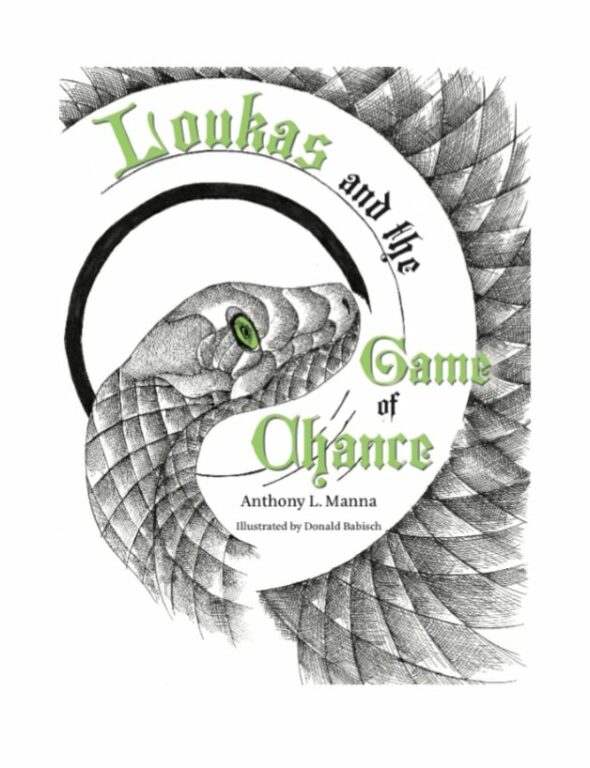 Loukas and the Game of Chance by Anthony L. Manna, Illustrated by Donald Babisch (Mascot Books, 2019). Synopsis:
A reimagined Greek folktale, Loukas and the Game of Chance is the story of a flute-playing boy who befriends a magical talking, dancing snake. The snake bestows fortune and favor upon Loukas, but some years later, tempted by greed and pride, Loukas loses all his riches and even his family. He now must embark on a treacherous journey filled with suspense and intrigue to find Destiny, the Sun, and the Moon. They'll surely allow him to reverse his misfortune, restore his honor, and win back all that he loves and treasures, won't they?
The story is illuminated by ten pen and ink drawings.