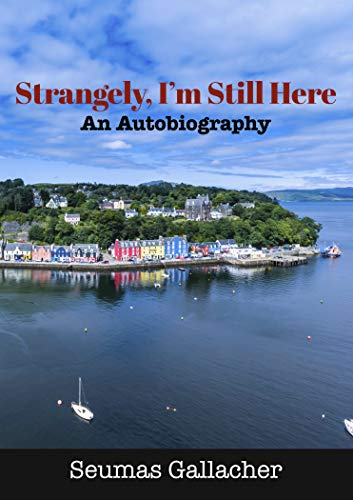 Synopsis:
Fact is often more incredible than fiction.
Seumas Gallacher has survived long enough to savour places, characters and events for more than forty years in the Far East and the Arabian Gulf.
He started life in Scotland, travelled far and wide as a wannabe Trainee Master of the Universe, but the Universe had other plans for him.

From a career in banking, he escaped to become a corporate trouble-shooter.
He discovered the joy and torture of becoming a wordsmith, writing five best-selling crime novels, a book of poetry, and being hyper-active on social media.
'Strangely, I'm Still Here' is his story.
Author Bio:

SEUMAS GALLACHER escaped from the world of finance years ago, after a career spanning three continents and five decades.
As the self-professed 'oldest computer Jurassic on the planet' his headlong immersion into the dizzy world of eBook publishing opened his eyes, mind, and pleasure to the joys of self-publishing.
As a former businessman, he rapidly understood the concept of a writer's need to 'build the platform', and from a standing start began to develop a social networking outreach, which now tops 30,000 direct contacts.
His first four crime-thrillers, in what has become the 'Jack Calder' series, THE VIOLIN MAN'S LEGACY, VENGEANCE WEARS BLACK, SAVAGE PAYBACK and KILLER CITY have blown his mind with more than 90,000 e-link downloads to date. The fifth in the series, DEADLY IMPASSE, was published in the third quarter 2016. When he reaches the 100,000 sales/downloads mark he may indulge an extra Fried Mars Bar to celebrate.
He started a humorous, informative, self-publishers blog, never having heard of a 'blog' prior to that, was voted 'Blogger of the Year 2013' and now has a loyal blog following on his networks. He says the novels contain his 'Author's Voice', while the blog carries his 'Author's Brand'. And he's still LUVVIN IT!