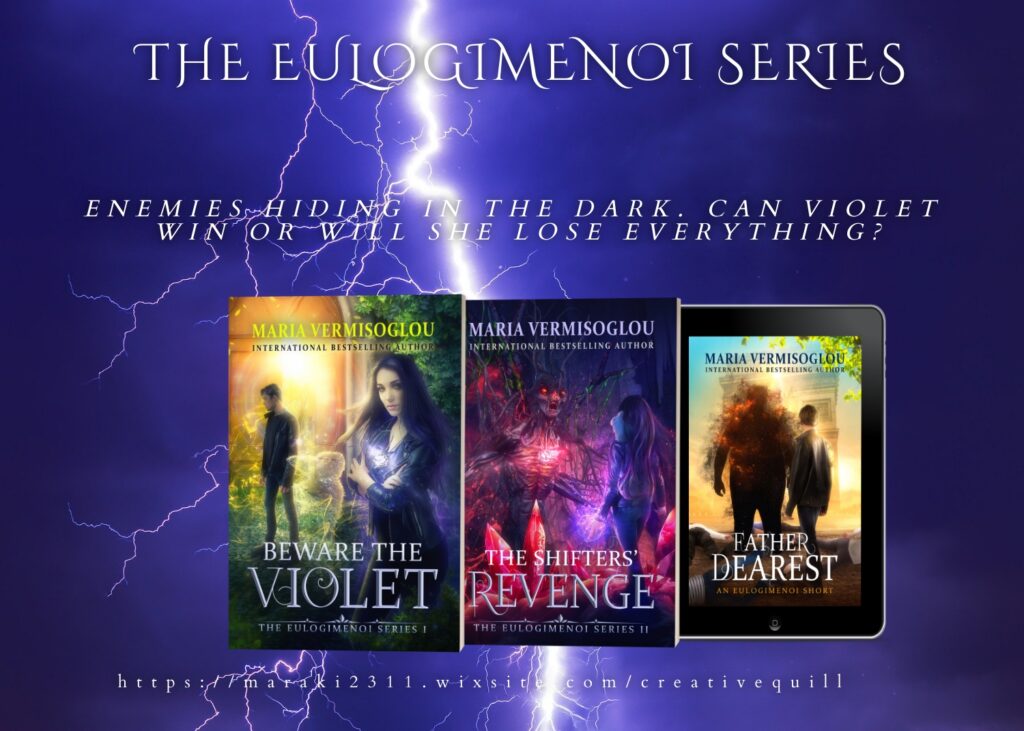 Beware the Violet
The Eulogimenoi Series Book 1
by Maria Vermisoglou
Genre: YA Fantasy
Discovering supernatural creatures are real is one thing but learning I have powers and learning to use them is quite a feat.
My name is Violet Webb. I live in a small town that nearly worships Halloween but I hate it. I can't wait until I graduate and get as far as I can from that silliness.

Everything changed when I followed the white rabbit. I ended up in a Realm full of vampires, fairies, witches and every creature possible.

Oh, Did I mention Jacques?
The hot shapeshifter with the French accent that makes me see rabbits everywhere?

Now what?

Some bloody lady of Fate gave me a prophecy to get home. The only problem is that I must defeat the darkness before it swallows both of our worlds.

Can I go through without making the ultimate sacrifice?
Goodreads: https://www.goodreads.com/book/show/48361883-beware-the-violet
Amazon: https://www.amazon.com/dp/B07YF3FRPP/
Book Trailer:
The Shifter's Revenge
The Eulogimenoi Series Book 2
The stakes are higher than ever…

As I recover from my last trial where I was confronted by the darkest creatures in history, I hoped things would return to my normal, peaceful life.Not a chance.With my return to Oklealia academy and the arrival of a new headmistress whose inhuman ways turn the academy into a jail, my plate is full enough, but signs of an upcoming threat awaken my fears once more.

Time is running out— for me and the world. When the final battle arrives, will I make the right choice?
Goodreads: https://www.goodreads.com/book/show/55426795-the-shifters-revenge
Amazon: https://www.amazon.com/gp/product/B08J5VFS33
Series Trailer:
Father Dearest
The Eulogimenoi Series Book 2.5
Spring Break is supposed to be a time of fun and new beginnings.

After defeating the Darkness, Violet and I thought we could just spend some time together and revel in our relationship with our friends in the Blessed Realm.
But just when you think the past is firmly locked away does it rear its ugly head.
A figure from my past comes back with a message, putting Violet's life at risk.

Will I be able to protect my girl, along with the realm that I call home? Or will blood prove to my undoing?
Goodreads: https://www.goodreads.com/book/show/55427387-father-dearest
Amazon: https://www.amazon.com/gp/product/B08JB476Q9
Book Trailer:
About the Author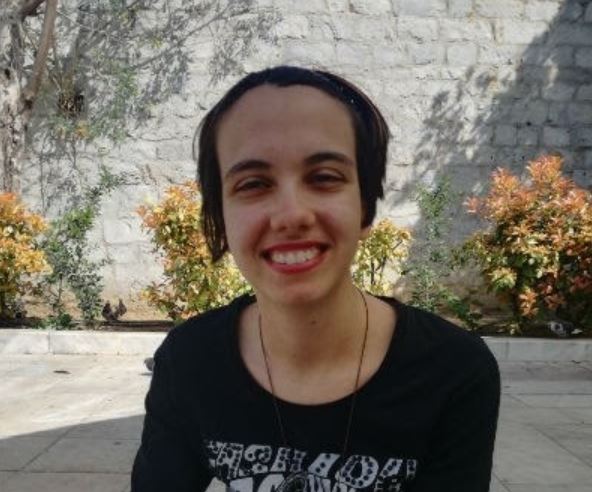 Librarian. Reader. Writer. Reviewer.

Maria Vermisoglou is an International Bestselling fantasy author and she loves throwing her heroes into impossible situations. She draws inspiration from books, travels and…the ceiling. (So, blame the ceiling!)

She started writing 4 years ago when an idea came to her. That idea started all…
When she's not writing, she loves a good riding on the fantasy dragon but a book can also be exciting along with a cup of tea.
She's currently residing in Crete as a librarian, battling monsters and supernatural creatures from overcoming the world.

In July 2018, she was nominated as the second place winner in the First Annual Indie Awards as the Favourite New Female Author.
Website * Facebook * Instagram * Bookbub * Amazon * Goodreads
Author Links
Website: https://maraki2311.wixsite.com/creativequill
Facebook: https://www.facebook.com/thecursedgirl16
Instagram: https://www.instagram.com/portal_to_the_unknown
Bookbub: https://www.bookbub.com/authors/maria-vermisoglou
Amazon: https://www.amazon.com/Maria-Vermisoglou/e/B07BYT83WR
Goodreads: https://www.goodreads.com/author/show/17909964.Maria_Vermisoglou
Giveaway
Follow the tour HERE for special content and a giveaway!
https://www.silverdaggertours.com/sdsxx-tours/the-eulogimenoi-series-book-tour-and-giveaway
**Enter to win a Big Mystery Box HERE!**
https://kingsumo.com/g/uosuzo/the-eulogimenoi-series-massive-giveaway