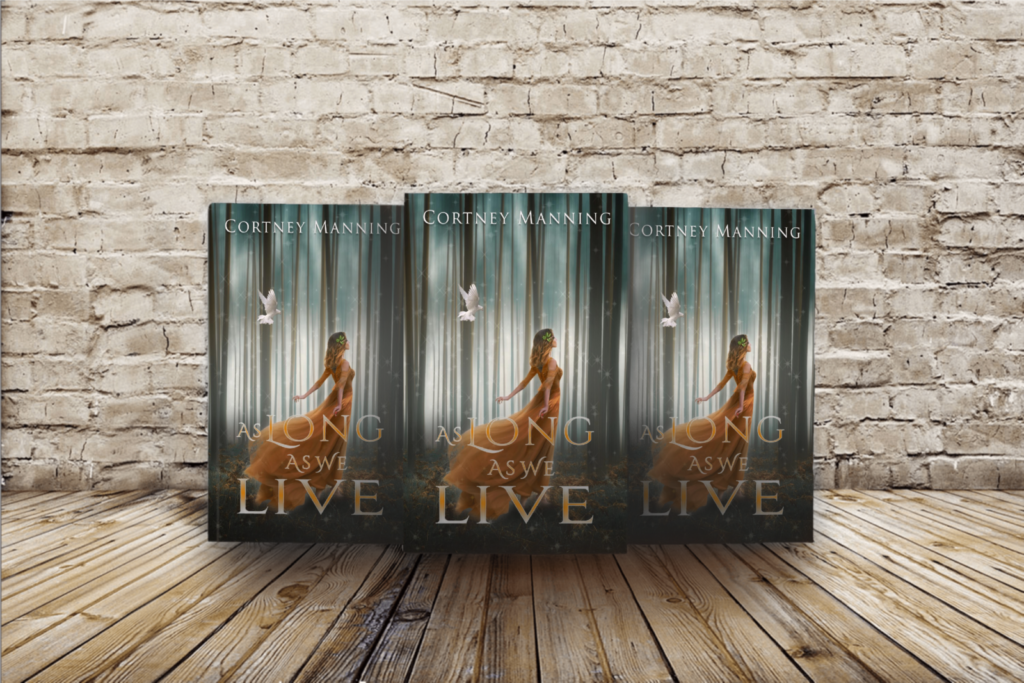 Thank you so much for welcoming me to your blog for the release of As Long as We Live, my epic Fae fantasy retelling of the Grimm Brothers' "Snow-White and Rose-Red"!
Today I'll be discussing how the original fairy tale was actually strongly inspired by a story written by a woman named Caroline Stahl.
Although the Grimm Brothers are renowned for their fairy tales, they did not write all the stories themselves.
Instead, they collected tales from acquaintances and friends and adjusted them to appeal to their audience of middle-class readers.
Many of the tales they wrote down had been passed on orally for years and also had different variations in different provinces.
However, one fairy tale they decided to adapt seems to have been an original piece created by a woman they knew named Caroline Stahl. Her story was called "The Ungrateful Dwarf", and its significant influence on the Grimms' "Snow White and Rose Red" is easy to identify.
In both stories, a pair of sisters deals with the stubbornness of a persnickety and ungrateful dwarf who meets his end at the paws of a bear. In the finale, the sisters become wealthy and lead happy lives together.
The main difference between the two stories comes in the ending. In "The Ungrateful Dwarf", the sisters actually have a large family that is quite poor, and they use the wealth they find to support for their other siblings and parents.
However, unlike in "Snow White and Rose Red", neither sister marries. They provide for themselves and their families from their newfound treasure. It is interesting to explore how "Snow White and Rose Red" came to be the tale it is today.
Although the Grimm Brothers used many stories that had been orally shared for years, "The Ungrateful Dwarf" was a more unique source. Caroline Stahl's tale may not be as popular as "Snow White and Rose Red", but its legacy still lives on today.
As Long as We Live
Book Description:
Three human sisters live in a Fae realm where every prince is blessed or cursed by a gift of magic, and royal rivalry threatens the future of the land.
Ivy Durran, the oldest sister, is a resilient young woman who clings to her sunny resolve even in the darkest situation.
When a terrible blizzard strikes the land, she feels responsible for protecting her sisters: adventurous Rose and vivacious Poppy. However, the storm drives an unexpected visitor to their doorstep, one who could bring hope or danger with his arrival.
Meanwhile, Pierre, the newly crowned ruler of Concoria, strives to bring order to his frozen land and tranquility to his troubled brothers. Nevertheless, the deep magic of Concoria is not easy to tame.
While Pierre would love nothing more than to escape into a simple life close to Ivy, the human lass he met years before, he instead shoulders his burdens and seeks healing for his kingdom and family.
Dark magic, frigid storms, and deadly predators must be overcome if Ivy and Pierre have any hope of saving their families and their homeland.
Purchase Link: https://www.amazon.com/gp/product/B098LX4ZHV/ Add Book on Goodreads: https://www.goodreads.com/book/show/58480113-as-long-as-we-live
Author Bio:
Cortney Manning resides in Florida but has always loved traveling the world.
She holds a master's degree in Victorian Literature from the University of Glasgow and has a not-so-secret love of fantasy as well.
Her writing can be found on her website, on https://gohavok.com/, and in the Rooglewood Press anthology, Five Poisoned Apples.
In her free time, Cortney enjoys walking, drawing, and afternoon tea. Find her online at: Website || Blog || Goodreads || Facebook || Twitter || Instagram || Amazon