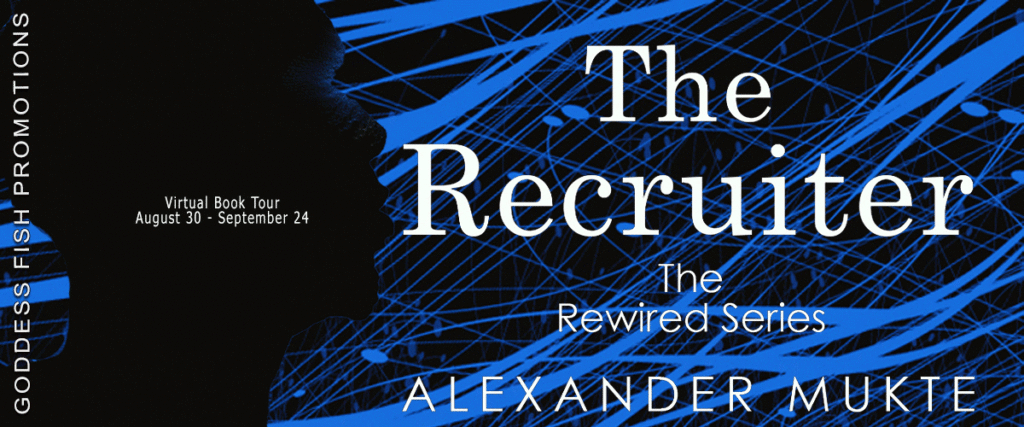 GENRE: Mystery/Thriller Sci-fi
~~~~~~~~~~~~~
BLURB: The Rewired Series
Series Blurb:
This is a fantastic, genre-bending series that weaves together the best mystery, visionary, and speculative fiction elements.
With characters that span across books and time, The Rewired Series explores what plagues humanity and the impact each person can have while leaving you with the promise of a better tomorrow.
Alexander Mukte wraps all of these themes inside edge-of-your-seat, engaging mysteries with larger-than-life characters you'll want to revisit again and again.
Blurb: The Recruiter
A fast-paced and thought-provoking mystery that will keep you on your toes until the very end. The Recruiter is an entertaining and thoroughly enjoyable start to the series, full of intriguing twists and turns.
Leslie may be an idealist, but she's no fool. She trusts her boss, Ori, implicitly. He has vision, principles, and a way with people. When a bomb is detonated at work, she finds herself caught up in a whirlwind of events. All of a sudden, their lives are on the line, and every choice matters.
Is Ori who she thinks he is? Why would anyone want to hurt him? And how do they get out of this mess? Leslie doesn't have it all figured out, but what becomes clear is that there's a lot the world doesn't know about Ori Clayborn.
Jessica is driven to make a difference by uncovering the truth. Investigative reporting is her life. One day she gets a unique assignment that leads her back to her hometown and into Ori's orbit. What will she find, and what's her role in this?
The Recruiter is a captivating, imaginative story that draws you in deeper and deeper, page-by-page. Alexander Mukte creates a universe that pulls you in and doesn't let you go.
Giveaway
Enter to win a $50.00 Barnes & Noble Gift Card Through Rafflecopter
http://www.rafflecopter.com/rafl/display/28e4345f3869
About The Author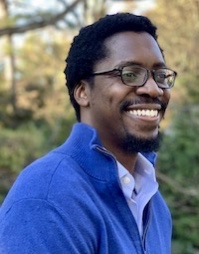 Alexander had an active imagination his whole life, but it wasn't until the birth of his son that he began putting the stories in his mind on paper.
He wanted to be an example of someone pursuing his passion, dreaming big, and taking chances.
Alexander loves people, their stories, and their backgrounds as well as what shapes them, how they think, and what they dream about.
He has a passion for learning and is known by most as an intensely curious person who eagerly soaks up anything and everything he can.
He dreamt of a career that allowed him to learn new things every day. In writing, he has found a life that allows him to do just that.
After graduating with a degree in business, Alexander volunteered in the U.S. Peace Corps where he aided in creating sustainable small business ventures in Central America.
Before taking this leap of faith, Alexander did Business Development and Consulting for large domestic and international companies. These experiences weave themselves into the characters, places and stories he creates.
An avid traveler, Alexander enjoys exploring new places with his family. He was raised in Southeastern Arizona, and now calls Georgia home, along with his wife and two sons.
The Recruiter is Alexander's first novel, though perhaps the 39th in his mind. We hope you enjoy it, and Deeply Rooted Dreams, as much as we have.
Author Links:
Amazon Author Profile: https://www.amazon.com/~/e/B084G4KKRD
GoodReads Author Profile:
https://www.goodreads.com/author/show/20023247.Alexander_Mukte
BookBub Author Profile: https://www.bookbub.com/authors/alexander-mukte
Instagram: https://www.instagram.com/alexandermukte/
Subscribe: https://www.threetofivepublishing.com/contact
Buy Links:
Website: https://www.threetofivepublishing.com/the-rewired-series
The Recruiter
Ubl: https://books2read.com/u/bovWNv
Amazon: https://www.amazon.com/Recruiter-Alexander-Mukte-ebook/dp/B084JRJP7H/ref=tmm_kin_swatch_0
Barnes & Noble: https://www.barnesandnoble.com/w/the-recruiter-alexander-
mukte/1136281285
Apple Books: https://books.apple.com/us/book/id1497199481
Kobo: https://www.kobo.com/us/en/ebook/the-recruiter-4
Deeply Rooted Dreams
Ubl: https://books2read.com/u/mZa1e5
Amazon: https://www.amazon.com/gp/product/B08XP5KC42
Barnes & Noble: https://www.barnesandnoble.com/w/deeply-rooted-dreams-alexander-
mukte/1138814308
Apple Books: https://books.apple.com/us/book/deeply-rooted-
dreams/id1553351240
Kobo: https://www.kobo.com/us/en/ebook/deeply-rooted-dreams
A Short Q & A With Alexander
What would we find under your bed?
Probably a random item or two that my toddler decided to make "disappear" as part of a magic show. I've found a measuring tape, my glasses case, one of my wife's bracelets. You never know what it might be, lol.
What was the scariest moment of your life?
When I was volunteering in the Peace Corps in Costa Rica, I had a pretty scary encounter with a snake while traveling to Nicaragua.
A couple of us were backpacking and staying in a little cabin. One stormy day, after coming back from a long hike, we found a boa constrictor or python of some sort tangled up in some exposed wires in the cabin.
Our guide asked one of us to hold the snake's head while he tried to untangle the body. I, for some unknown reason, agreed to do this. Right as I was securing my hand around the snake near its head, the power and lights went out.
The guide told me not to move, so I stayed in place but was completely freaking out on the inside. Luckily, it worked out. My friends turned on their flashlights for us.
The guide got the snake untangled, then he took it from me and moved it outside. I think I might have been holding my breath the whole time. Now I'm a little slower to say yes to things.
My appreciation for reptiles is relatively new, thanks to increased visits to the zoo with my son. I still have no plans to hold a snake again, though. Once was enough.
Do you listen to music while writing? If so what?
Yes! Music is a must when writing, working out, and cooking. When writing, I typically listen to music without lyrics. I have a Jazz playlist with Sonny Rollins and John Coltrane. I also listen to this album, Pure Classics, by David Garrett.
What is something you'd like to accomplish in your writing career next year?
Publish the third installment of The Rewired Series
How long did it take you to write this book?
It took me about three years to write The Recruiter. I started it while I was still in the corporate world.
I would write either late at night or in the wee hours of the morning when my family was sleeping.
Then two years ago, I left my corporate job to do this full-time and put the finishing touches on The Recruiter.
Deeply Rooted Dreams came next, and it took me a year with dedicated focus.